Winmau led from the front at the unveiling of their new product range on Wednesday. Rather than starting with the smaller items and leading up to flagship products they hit the ground running with the revealing of a brand new board, the Blade 6 Triple Core Carbon.
In a break from the recent tradition of social media/graphic focused launched the Welsh brand went with a big name video and innovative panel discussion platform. Led by Rat Stubbs with Paul Nicholson and Mark Webster, as well as engineering wizard Lee Uxley, ensured all angles were covered and all questions could be answered.

Catch up on the Winmau launch and panel presentation here:
6 of the Best:
The latest iteration of the Blade series has several visual changes and others that are not so obvious. The outer ring or spider has been given an elegant makeover, it's silver/grey (carbon?) is subtler but easily visible and perhaps even helpful to visual focus. The feel of the board is different to those which preceded it. There is an almost soft touch to the out layer, suggesting a welcoming material for the point. the low compression sisal in this area allows the dart in with ease. The second, higher compression, layer holds the dart firmly in place. Meanwhile, the new carbon fibre adds even more durability at the highest level of performance.

Exactly MVG
In addition to the new board their seemed a major focus on iconic players, whether past or present. First up, of course, was a new MVG dart with particular emphasis on functionality. The new dart has many of the signature elements of MVGs signature darts but is coated to give a comfortable feel straight out of the box. Our test teams have already responded very positively to this.

Waites for it:
A brand new edition/model for double World champion Scott Waites may intrigue many. While retaining the main features, of Too Hotty's long-standing edition, the grip had been totally revolutionised to produce a muscular, aggressive-looking dart that may appeal to a wider selection of players than the almost delicate previous incarnation.

Asset stripping:
Another player to alter course appears to be Paul Nicholson. The Players Championship finals winner has altered both the design and cosmetics of his long used weapons of choice. Featuring a yellow/silver colour scheme, far removed from the understated green and black of previous versions, The Asset's latest offering has an elliptical nose and a new grip style. Gone is the front end blank and the aggressive grip. The design this time has a similarity too the classic Daryl Gurney SE as well as a second ring grip space two-thirds of the way toward the stem. Less striking in some ways but intriguing as a toll of choice. We await our tester's views with keen interest.

Putting the O in Joe?
The updated Joe Cullen dart may generate the most speculation and interest from today's model. Building on Joe and his Winmau darts success a few upgrades can be seen at a glance. The most notable is the replacement of the fine ring cut grip sections with blocks made of O's. Our test team at AIM180 has been banging on for some time about the need to rethink grip and look at it as surface and traction. This impressive-looking new model seems to head in that direction. The dart has even gained cosmetically and is unique in players' darts.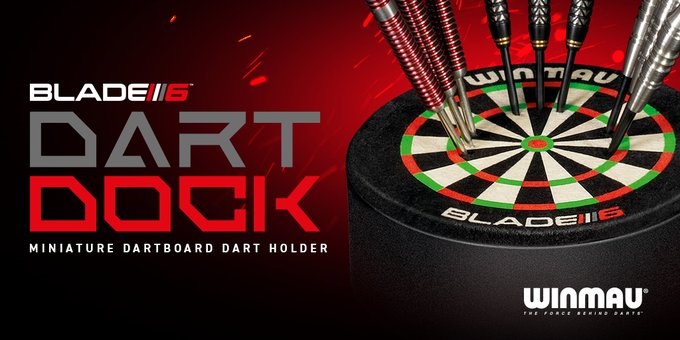 In the Dock
Our final selection from what has been an extensive launch (much more reaction and early reviews to come) is the fabulous and almost cute Dart Dock! A weighty and superbly executed mini dartboard for you to hold your spare sets in. Almost every player we know has a different version of dart holder in their darts space. Winmau has provided one that doesn't look like an office tidy, does a great job, and has a touch of flair and humour.
As we anticipated Winmau has produced a far more extensive launch than many of their rival brands this year. Where others relied heavily on China and had a long time and supply lines, Winmau's UK (and Kenya) design and production processes have enabled an almost seamless effort from the Welsh company.
Darts World's team of analysts testers and players are enjoying an early Christmas feeling, they will bring you more details and in-depth reviews in the coming days.
——ENDS—–
Images: Winmau
Boardroom with Catdromeda Accounting
Darts World Magazine (Issue 577) and 2022 bundle offers
Subscribe or purchase your copy