As Ben Stokes was appointed the new captain of the England men's Test team, James Hurrell and Deta Hedman have been appointed as England darts captains. All have stated how honoured they are to lead their country.
Britain has seen some of the world's greatest sporting captains, many filling those trophy cabinets to the brim.
The team at betting.com has ranked the top captains in a handful of UK sports according to the number of wins and trophies they have brought home to British turf. Darts World's own JR Lott has added a couple of names familiar to those who follow our sport!
Football- Bobby Moore
Bobby Moore captained England's only World Cup win in 1966. The tournament was held in England and the trophy was lifted at the iconic old Wembley stadium.
He impressively represented England 108 times and scored two goals during his international career.
He most famously wore the colours of West Ham United during his club career, making 544 appearances for the Hammers, although he had stints playing for Fulham and Seattle Sounders amongst others.
The England football captains who have come closest to matching Bobby Moore's triumph are Harry Kane who captained the men's team to a runners-up finish in 2021, plus Faye White who led the England women's team when they were runners up in 2009.
Rugby- Martin Johnson
The greatest leader on the rugby pitch, Martin Johnson will forever be remembered for skippering the Red Rose to the 2003 World Cup triumph while leading the Lions on two separate tours is also a record.
The 2003 road to glory would have felt even sweeter to Martin Johnson, who had previously captained England's rugby union squad to a runners up finish at the 1999 Rugby World Cup.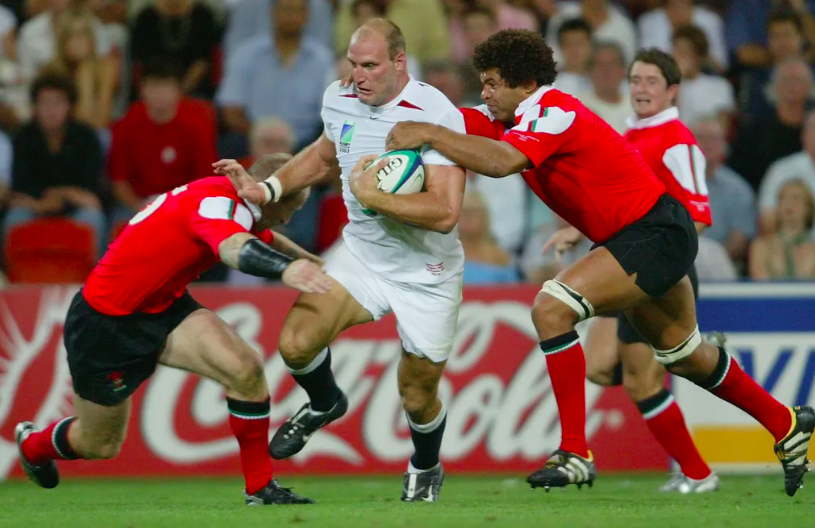 Johnson was England's captain for 39 matches including the 2003 Six Nations Championship and the 2003 Rugby World Cup in which England were crowned champions.
In total, he played an impressive number of 362 games with his only senior club team, the Leicester Tigers and 84 with the England national team.
Cricket – Eoin Morgan
Eoin Morgan successfully captained the England men's cricket team to their first Cricket World Cup in 2019, playing primarily as a batsman.
Morgan holds several records as an England international cricketer. He is the all-time leading run-scorer and most-capped player for England in both ODI and T20 matches, plus the only England captain to have scored more than four ODI centuries.
Despite being England's most successful cricket captain, Morgan was born in Dublin, Ireland and had previously represented Ireland's national cricket team between 2006 and 2009, before switching his allegiance to England.
Netball – Ama Agbeze
Ama Agbeze captained the England women's netball team to a gold medal at the 2018 Commonwealth Games, and was also a member of the team that won a bronze medal at the 2006 games.
She also won gold with England at the 2017 Fast 5 Netball world series and has earned 100 caps and counting for England.
Receiving an MBE in 2019 for her services to netball, she has represented sixteen different netball teams at the club level, including her hometown Birmingham Blaze.
Darts – John Lowe
An unbeaten record is the holy grail for sportsmen and women and is incredibly rare. An unbeaten Captain, over an extended period, is almost unheard of. Yet darts can boast one….
Old Stoneface is perhaps best known for his three world titles, Lowe has also won two World Masters titles, two British Open titles, two British Matchplay Championships, and two World Cup Singles. But his record as an international player and England captain is equally outstanding.
Lowe played for England over 100 times and was captain for seven years, during which time his team were unbeaten. Over his career as a player and captain, the England side claimed 5 World Cups (WDF) and matched it with 5 European Cup wins. Lowe himself won the World Cup Singles twice and the Pairs a barely believable six times.
The now 76-year-old has long been acknowledged as a superb ambassador for the game resulting in him being awarded the MBE.
Darts has featured some other great national Captains within their era. Leighton Rees spearheaded Wales's first glory era in the 1970s and Scotland's Rab Smith glavanised the 'Land of Cakes' into titans of the tungsten tossing arts. England's Martin Adams also served with distinction and collected a vast array of trophies.
Along with Ben Stokes's appointment to one of the toughest sporting jobs, darts to has appointed new England skippers with James Hurrell and the legendary Deta Hedman recently appointed. We wish him all the best and hope to see him join the pantheon of Captains fantastic!
—–ENDS—–
Worlds: JR Lott & Betting.Com
Images: John Lowe – http://www.johnlowembe.co.uk/gallery.html
Others: As Supplied
Darts World Magazine (Issue 579) and 2022 bundle offers
Subscribe or purchase your copy